UP Squared Pro 7000 Series
 Support Hailo-8™ AI Accelerator / Support up to 26 TOPs / Support Hailo-8™ Software Development Kit. Check Tutorial for more information.
UP Squared Pro Series Latest 3rd Generation Lineup, Intel® Core™ i3-N305 Processor and Intel Atom® x7425E, Intel® Processor N50, Intel® Processor N97 (Formerly Alder Lake-N)
A wide range of operating temperature (-20~70°C) options are available to suit your project! Please send inquiries to shop@up-board.org .
UP Squared Pro 7000 MIPI-CSI Camera Development Kit!
Want to start your MIPI development with two supported MIPI cameras from UP Eco Partners?
Purchase the UP Squared Pro 7000 Board + UP MIPI Camera Converter Kit from the Options section above.
UP Squared Pro 7000 board

UP MIPI Camera Converter Kit (available for purchase from the 'Options' section above)

UP partner compatible camera (purchased separately)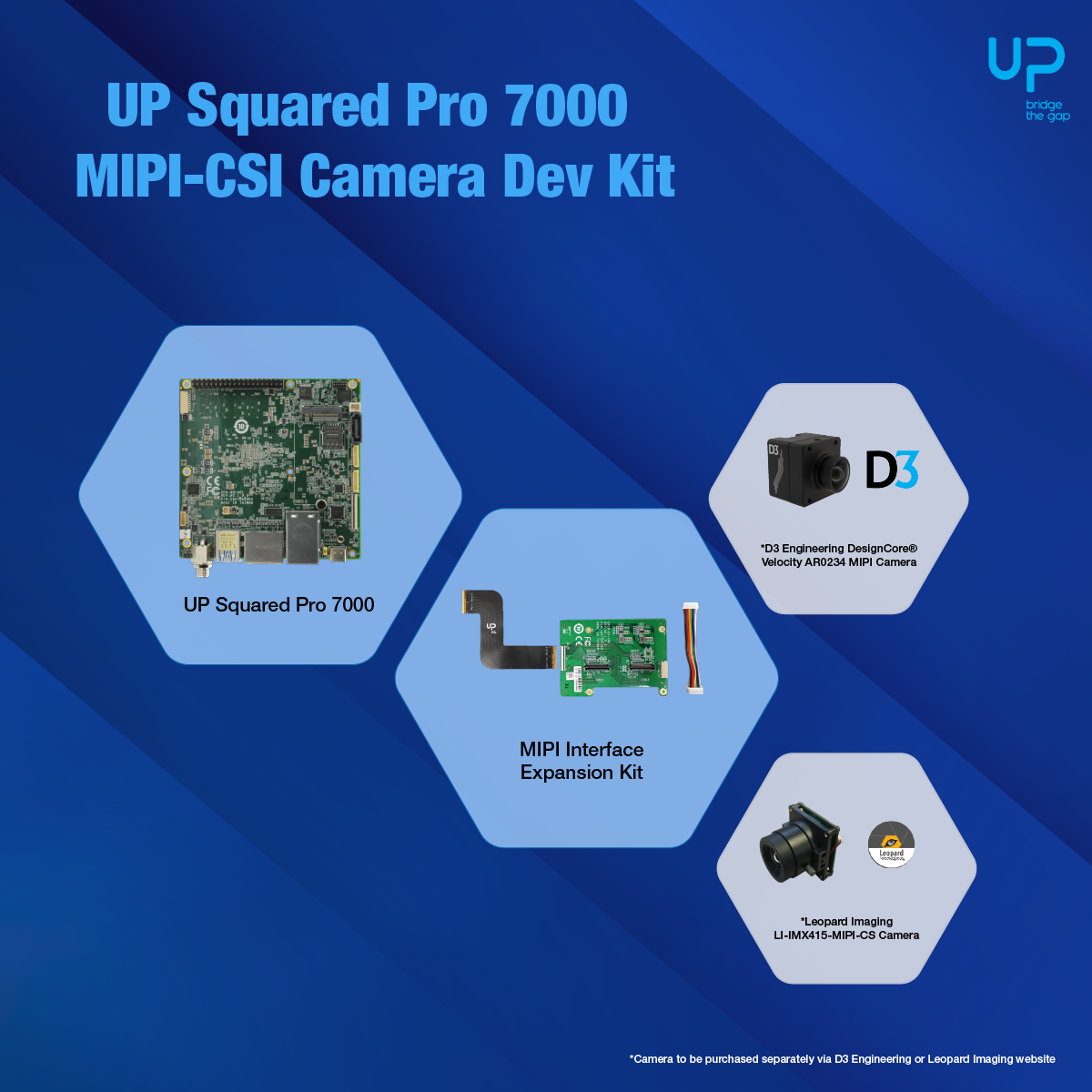 Product Details

| | |
| --- | --- |
| Name | UP Squared Pro 7000. Intel® Processor N50. 4GB RAM. 32GB eMMC |
| SKU | UPN-ADLN50-A10-0432 |
General

| | |
| --- | --- |
| Processor | Intel®Processor N50 |
| Graphics | Intel® UHD Graphics 12th Gen |
| VPU | Optional (via M.2 2280) |
| Memory | 4GB |
| eMMC / Storage | 32 GB |
| FPGA | Lattice |
| BIOS | UEFI |
| RTC | Yes |
| Wake-on-LAN (WoL) | Yes |
| Watchdog Timer | Yes |
| PXE | Yes |
| TPM | Equipped with TPM2.0 |
| Compatible OS | Windows 10 IoT Enterprise、Ubuntu 22.04 LTS、Yocto 4 |
| Dimension | 101.6mm×101.6mm |
Display
HDMI
1 x HDMI 2.0b
Display Port
1 x DP 1.2
1 x DP 1.4a via USB Type C
MIPI DSI/ eDP
N/A
I/O
USB
2 x USB 2.0 (via 10 pin wafer)
2 x USB 3.2 Gen 2 Type A
1 x USB 3.2 Type C
Audio
1x audio jack (mic in, line out)
UART
1x UART (via 10 pin wafer)
Serial Port
2 x RS-232/422/485 (via 10 pin header)
Expansion Slot
1 x M.2 2280 M Key (PCIe Gen 3 x2, USB2.0)
1 x M.2 2230 E Key (CNVI, PCIe Gen 3 x1, USB2.0)
1 x M.2 3052 B Key (USB3.2 Gen 2 only) with Nano SIM slot
40-pin GPIO header
yes
MIPI-CSI
yes
Connectivity

| | |
| --- | --- |
| Ethernet | 2 x 2.5GbE (Intel® i226IT) |
| Wi-Fi | Optional (via M.2 2230) |
| Bluetooth | Optional (via M.2 2230) |
| LTE / 4G / 5G | Optional (via M.2 3052) |
Power

| | |
| --- | --- |
| Power Requirement | 12V DC input |
| Power Supply Type | AT/ATX mode |
| Power Consumption (Typical) | 26W~43W |
Environmental & Certification

| | |
| --- | --- |
| Cooling | Passive cooling (fanless) |
| Operating Temperature | 0℃~60℃ |
| Storage temperature | -40°F ~ 176°F (-40°C ~ 80°C) |
| MTBF (Hours) | 422,053 |
| Certification | CE/FCC Class A, RoHS Compliant, REACH |
Package

| | |
| --- | --- |
| Net Weight | 200g |
| Gross Weight | 350g |
| Package dimension (L x W x H) | 157×147×68mm |
| HS Code | 8473302000" |
| Country of Origin | Taiwan |
Accessories
Accessories
1x RTC Battery
1x passive heatsink
Product Details

| | |
| --- | --- |
| Name | UP Squared Pro 7000. Intel® Processor N97. 4GB RAM. 32GB eMMC |
| SKU | UPN-ADLN97-A10-0432 |
General

| | |
| --- | --- |
| Processor | Intel®Processor N97 |
| Graphics | Intel® UHD Graphics 12th Gen |
| VPU | Optional (via M.2 2280) |
| Memory | 4GB |
| eMMC / Storage | 32 GB |
| FPGA | Lattice |
| BIOS | UEFI |
| RTC | Yes |
| Wake-on-LAN (WoL) | Yes |
| Watchdog Timer | Yes |
| PXE | Yes |
| TPM | Equipped with TPM2.0 |
| Compatible OS | Windows 10 IoT Enterprise、Ubuntu 22.04 LTS、Yocto 4 |
| Dimension | 101.6mm×101.6mm |
Display
HDMI
1 x HDMI 2.0b
Display Port
1 x DP 1.2
1 x DP 1.4a via USB Type C
MIPI DSI/ eDP
N/A
I/O
USB
2 x USB 2.0 (via 10 pin wafer)
2 x USB 3.2 Gen 2 Type A
1 x USB 3.2 Type C
Audio
1x audio jack (mic in, line out)
UART
1x UART (via 10 pin wafer)
Serial Port
2 x RS-232/422/485 (via 10 pin header)
Expansion Slot
1 x M.2 2280 M Key (PCIe Gen 3 x2, USB2.0)
1 x M.2 2230 E Key (CNVI, PCIe Gen 3 x1, USB2.0)
1 x M.2 3052 B Key (USB3.2 Gen 2 only) with Nano SIM slot
40-pin GPIO header
yes
MIPI-CSI
yes
Connectivity

| | |
| --- | --- |
| Ethernet | 2 x 2.5GbE (Intel® i226IT) |
| Wi-Fi | Optional (via M.2 2230) |
| Bluetooth | Optional (via M.2 2230) |
| LTE / 4G / 5G | Optional (via M.2 3052) |
Power

| | |
| --- | --- |
| Power Requirement | 12V DC input |
| Power Supply Type | AT/ATX mode |
| Power Consumption (Typical) | 32W~49W |
Environmental & Certification

| | |
| --- | --- |
| Cooling | Passive cooling (fanless) |
| Operating Temperature | 0℃~60℃ |
| Storage temperature | -40°F ~ 176°F (-40°C ~ 80°C) |
| MTBF (Hours) | 422,053 |
| Certification | CE/FCC Class A, RoHS Compliant, REACH |
Package

| | |
| --- | --- |
| Net Weight | 200g |
| Gross Weight | 350g |
| Package dimension (L x W x H) | 157×147×68mm |
| HS Code | 「8473302000」 |
| Country of Origin | Taiwan |
Accessories
Accessories
1x RTC Battery
1x passive heatsink
Product Details

| | |
| --- | --- |
| Name | UP Squared Pro 7000。Intel Atom® x7425E。 8GB RAM。 64GB eMMC |
| SKU | UPN-ADLNX25E-A10-0864 |
General

| | |
| --- | --- |
| Processor | Intel Atom®x7425E |
| Graphics | Intel® UHD Graphics 12th Gen |
| VPU | Optional (via M.2 2280) |
| Memory | 8GB |
| eMMC / Storage | 64 GB |
| FPGA | Lattice |
| BIOS | UEFI |
| RTC | Yes |
| Wake-on-LAN (WoL) | Yes |
| Watchdog Timer | Yes |
| PXE | Yes |
| Compatible OS | Windows 10 IoT Enterprise、Ubuntu 22.04 LTS、Yocto 4 |
| Dimension | 101.6mm×101.6mm |
Display
HDMI
1 x HDMI 2.0b
Display Port
1 x DP 1.2
1 x DP 1.4a via USB Type C
MIPI DSI/ eDP
N/A
I/O
USB
2 x USB 2.0 (via 10 pin wafer)
2 x USB 3.2 Gen 2 Type A
1 x USB 3.2 Type C
Audio
1x audio jack (mic in, line out)
UART
1x UART (via 10 pin wafer)
Serial Port
2 x RS-232/422/485 (via 10 pin header)
Expansion Slot
1 x M.2 2280 M Key (PCIe Gen 3 x2, USB2.0)
1 x M.2 2230 E Key (CNVI, PCIe Gen 3 x1, USB2.0)
1 x M.2 3052 B Key (USB3.2 Gen 2 only) with Nano SIM slot
40-pin GPIO header
yes
MIPI-CSI
yes
Connectivity

| | |
| --- | --- |
| Ethernet | 2 x 2.5GbE (Intel® i226IT) |
| Wi-Fi | Optional (via M.2 2230) |
| Bluetooth | Optional (via M.2 2230) |
| LTE / 4G / 5G | Optional (via M.2 3052) |
Power

| | |
| --- | --- |
| Power Requirement | 12V DC input |
| Power Supply Type | AT/ATX mode |
| Power Consumption (Typical) | 32W~49W |
Environmental & Certification

| | |
| --- | --- |
| Cooling | Passive cooling (fanless) |
| Operating Temperature | 0℃~60℃ |
| Storage temperature | -40°F ~ 176°F (-40°C ~ 80°C) |
| MTBF (Hours) | 422,053 |
| Certification | CE/FCC Class A, RoHS Compliant, REACH |
Package

| | |
| --- | --- |
| Net Weight | 200g |
| Gross Weight | 350g |
| Package dimension (L x W x H) | 157×147×68mm |
| HS Code | 8473302000" |
| Country of Origin | Taiwan |
Accessories
Accessories
1x RTC Battery
1x passive heatsink
Product Details

| | |
| --- | --- |
| Name | UP Squared Pro 7000. Intel® Core™ i3-N305. 16GB RAM. 64GB eMMC |
| SKU | UPN-ADLNI3-A10-1664 |
General

| | |
| --- | --- |
| Processor | Intel®Core™ i3-N305 |
| Graphics | Intel® UHD Graphics 12th Gen |
| VPU | Optional (via M.2 2280) |
| Memory | 16GB |
| eMMC / Storage | 64 GB |
| FPGA | Lattice |
| BIOS | UEFI |
| RTC | Yes |
| Wake-on-LAN (WoL) | Yes |
| Watchdog Timer | Yes |
| PXE | Yes |
| TPM | Equipped with TPM2.0 |
| Compatible OS | Windows 10 IoT Enterprise、Ubuntu 22.04 LTS、Yocto 4 |
| Dimension | 101.6mm×101.6mm |
Display
HDMI
1 x HDMI 2.0b
Display Port
1 x DP 1.2
1 x DP 1.4a via USB Type C
MIPI DSI/ eDP
N/A
I/O
USB
2 x USB 2.0 (via 10 pin wafer)
2 x USB 3.2 Gen 2 Type A
1 x USB 3.2 Type C
Audio
1x audio jack (mic in, line out)
UART
1x UART (via 10 pin wafer)
Serial Port
2 x RS-232/422/485 (via 10 pin header)
Expansion Slot
1 x M.2 2280 M Key (PCIe Gen 3 x2, USB2.0)
1 x M.2 2230 E Key (CNVI, PCIe Gen 3 x1, USB2.0)
1 x M.2 3052 B Key (USB3.2 Gen 2 only) with Nano SIM slot
40-pin GPIO header
yes
MIPI-CSI
yes
Connectivity

| | |
| --- | --- |
| Ethernet | 2 x 2.5GbE (Intel® i226IT) |
| Wi-Fi | Optional (via M.2 2230) |
| Bluetooth | Optional (via M.2 2230) |
| LTE / 4G / 5G | Optional (via M.2 3052) |
Power

| | |
| --- | --- |
| Power Requirement | 12V DC input |
| Power Supply Type | AT/ATX mode |
| Power Consumption (Typical) | 35W~52W |
Environmental & Certification

| | |
| --- | --- |
| Cooling | Passive cooling (fanless) |
| Operating Temperature | 0℃~60℃ |
| Storage temperature | -40°F ~ 176°F (-40°C ~ 80°C) |
| MTBF (Hours) | 422,053 |
| Certification | CE/FCC Class A, RoHS Compliant, REACH |
Package

| | |
| --- | --- |
| Net Weight | 200g |
| Gross Weight | 350g |
| Package dimension (L x W x H) | 157×147×68mm |
| HS Code | 8473302000 |
| Country of Origin | Taiwan |
Accessories
Accessories
1x RTC Battery
1x passive heatsink